Best RV & Camping Resorts in Houston
Do you know what to look for when choosing your stay-cation destination? The Retreat at Lake Houston has everything you need – we did some digging to find out what's most important to campers when choosing where to take your family. Here's our findings: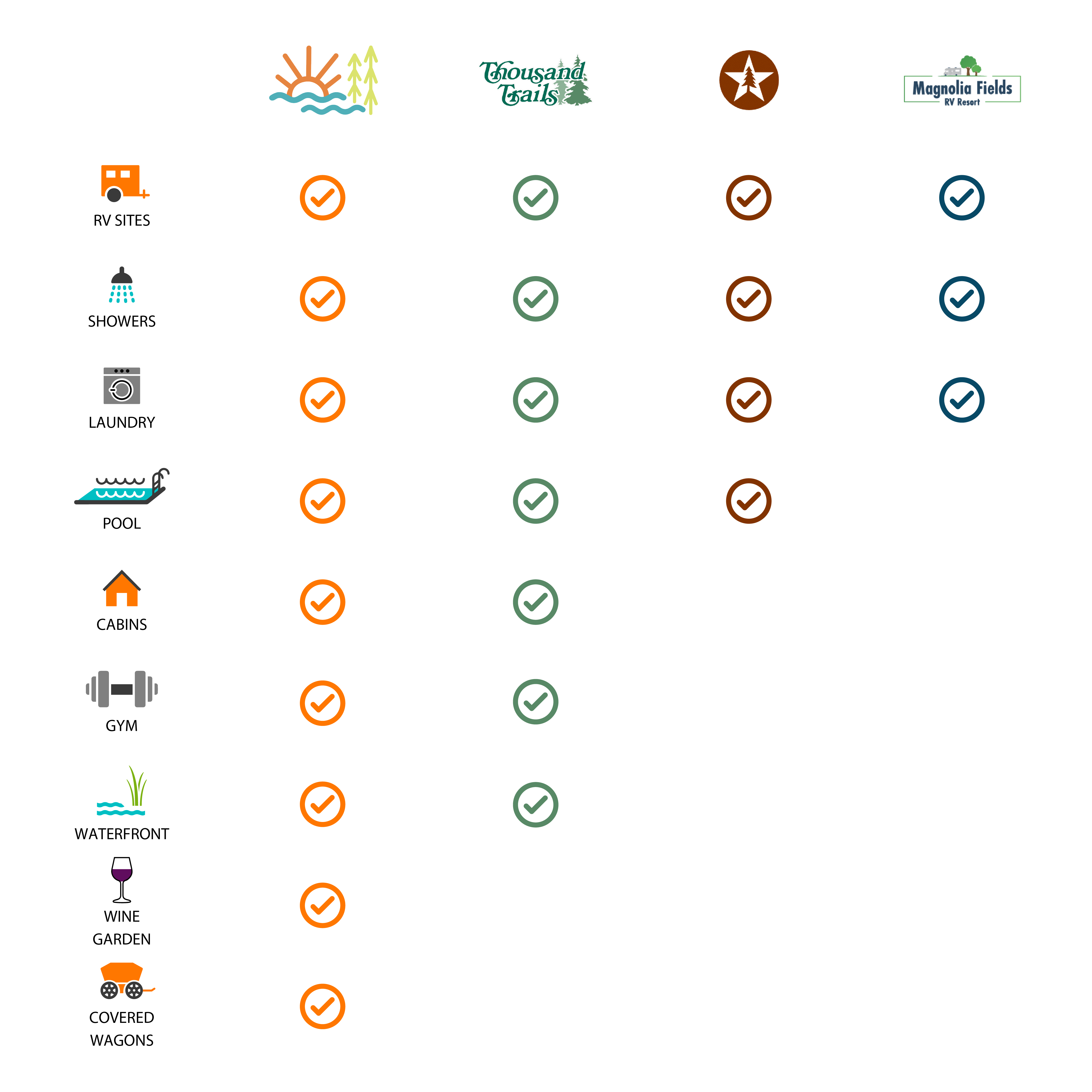 Full Hook Up RV Sites: though common, it's important to make sure the resort you book at has connections for sewer, water, and electric connections. The Retreat goes above and beyond for you, offering complimentary cable and basic Wi-Fi too (upgrades available.)
If you're in an RV, it may have a shower – but when you're traveling with the family you may need more than one. Our bathhouse includes 8 full bathrooms, with oversized showers, grab bars, hand showers and plenty of privacy.
Did the kids spend a whole day outside? Fishing, playing sand volleyball, and exploring the great Texas outdoors? It's probably time for some laundry. We're equipped with a 24-hour laundry facility, ready for any stain! Don't worry – no need to dig through your passenger seat for quarters, you can download our CSCPay app and pay wirelessly.
Beat the heat, at The Retreat! With an outdoor pool, your family is sure to stay fresh during the summer months. Our outdoor pool will be fully decked out – featuring cabanas. You can see the pool from the wine garden, clubhouse, or gym – letting you keep an eye on the kids while you pamper yourself. The Retreat is an ideal RV Resort for Snowbirds and Winter Texans, who can enjoy our hot tub/spa, and plenty of firepits around the park and at each campsite.
Glampers will find unique lodging & accommodations at The Retreat, with luxury cottages from our friends at RRC Athens. These glamping cabins have AC, kitchenettes, full bathrooms, and come fully furnished. They sleep up to 8 and feature a small patio with a grill.
What makes The Retreat a unique camping and glamping destination is its waterfront location. Nestled along the shores of Lake Houston, The Retreat has a lit boardwalk with boat slips, where campers can fish, picnic, and enjoy the views. If you bring a boat, you can use the Ponderosa Marina to launch ($10), and dock at the boardwalk. The Retreat is also a great fishing and water sports destination, with kayak and canoe rentals.
One of the many amenities that make The Retreat the premier camping destination in Texas is our wine & beer garden. Located near the pool and outdoor games, it's perfect for parents to relax and enjoy a drink, while kids enjoy the summer outdoors.
Finally – The Retreat is one of a handful of Texas RV and camping resorts that features Conestoga Covered Wagons. These are the most unique glamping accommodations and will set the scene for an unforgettable experience for you and your family. Handcrafted, and made in America, these canvas-top wagons feature AC, a mini-fridge & microwave, sleep up to 4, and are conveniently located near a bathhouse with two full bathrooms.
Whether you're an avid outdoorsman, or a glamping family looking for a pampered stay-cation, you can find your next adventure at The Retreat RV & Camping Resort.